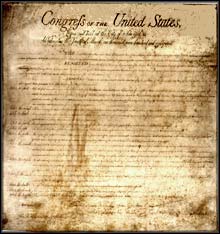 Management must form a sound foundation and lead by example.  I believe strongly that any call center executive who wants to bring about change in the call center must have a strategy in place to do just that. Taking from our nation's history, establishing a Declaration of Independence and Bill of Rights makes call centers excel.
Bringing these documents to the call center breathes new life into the policies and procedures, agents, supervisors, support staff, and ways that business is done on an everyday basis.  They cause us to reassess the vision, practices and strengths of the call center from top to bottom.  They create a structural foundation for the entire call center that would withstand any earthquake.
When anything different is presented in the call center, a typical reaction will ensue.  Some agents will buy in and support the change, defying conditioning and embracing change.  These agents will spread the news. To be successful today is important, but to become successful for our descendants is even more valuable.  Nothing can be finer than to leave a company in better shape today and in better shape for the future.  That is what all call centers require.  That is what the people should strive for.
Introduce positive change. Bringing a Declaration of Independence and Bill of Rights to the call center is the first step in an action plan to develop a vision and a foundation for your call center.  It is the channel to embrace positive change.  When fresh ideas or new changes are desired, my experience has been that management recognizes they must make important changes in their call center for their call center to live.  Yet, although they do desire fresh ideas and new changes, that same management team generally does not understand how to successfully make those changes.  Sure, they can do a little here, or a little there.  But eventually, a new emergency or idea comes to the forefront and any attempt at change is forgotten.  Change is simply too difficult.
Write down your vision. Management gurus will be the first to tell struggling organizations that their companies lack vision, and that a simple mission statement won't be enough to fix that.  "Vision" is another one of those overused and irritating words that you see in books and that you hear in conferences all of the time.  "Your employees don't see a vision" or "Your department has no vision" or "Your company has a mixed up vision of what they want to do".  Yet, the word does have true meaning. Why tinker around with a great word when the word says everything you need it to say?  When one looks at a struggling call center in need of action, one can usually find a lack of vision from the top down.  Agents don't feel comfortable that they know what is going on in the call center.  Supervisors can't describe areas that would elicit comfort.  Upper management fails to articulate a course, strategy, or goals.  The call center is a living unit of action with little motivation to move anywhere.  There is no overriding vision.  Nobody feels accountable.  Nobody has written and verbal explanations of where everybody wants to be.
Plan & implement the mission. When I speak with supervisors, managers, directors, vice presidents and CEO's, they readily admit that their call center could do a better job of promoting a vision, and inspiration, for its employees.  Sometimes they see that problem as their issue, a management issue, because they and management haven't addressed what they want to demonstrate as vision and inspiration in the first place.  Oftentimes, the practice of developing the vision and inspiration is an intangible that management can't get their hands around.  In essence, they understand they need to make something happen for their employees, departments and the business as a whole.  They just don't know how to do it.  They recognize a mission statement is valuable, but they also know that a mission statement will be nothing more than a jumbled set of words which mean absolutely nothing unless it is put into action and utilized to the success of everyone involved.  Where management falters is not in its recognition of the issue, but in its planning and implementation of the mission.  The Declaration of Independence and Bill of Rights can solve much of that when applied correctly.